Steven L. Hoskin
Historical Autographs

Buying and selling American Historical Autographs, Documents, Letters and Manuscripts. Specializing in U.S. Presidents & First Ladies, along with Revolutionary War, Civil War, Black History, Business, and the Arts & Sciences. Quality consignments are accepted.
Upcoming Shows
Florida Antiquarian Book Fair
St. Petersburg, FL
April 26-28, 2019

Seattle Antiquarian Book Fair
Seattle, WA
October 12 & 13, 2019
---
---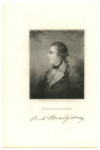 MONTGOMERY, RICHARD (1738-75) American Revolutionary War, Continental Army Major General; Killed-in-Action during the Battle of Quebec City - December 31, 1775
Original Engraving, 6 ¼" x 9 ½" overall, with a printed facsimile signature beneath a 3 ½" x 4 ½" image of Montgomery in military uniform, imprinted "Engraved by E. MacKenzie, from the Painting by C.W. Peale in the Philadelphia Museum."
Lightly and evenly toned, with a few superficial stains.
$25.00

GETTY, JEAN PAUL (1892-1976) British-American Industrialist – Founder of the Getty Oil Company
Document Signed, 8 ¼" x 11", partly printed, July 15, 1922, "J. Paul Getty," a stock certificate for one thousand shares of the Oklahoma Oil Company, issued to "G.W. Woolley." Countersigned by the company secretary.
The document is lightly toned, with a few small stains and light cancellation markings.
$1,700.00

NELSON, HORATIO (1758-1805) British Navy Officer; Killed-in-Action at the Battle of Trafalgar - October 21, 1805
Original Steel Engraving, 7 ¼" x 10" overall, with a 4 ½" x 5 ¾" image of Lord Nelson in military uniform, imprinted "Hoppner, pinx. A.H. Payne, sc…London, Brain & Payne, 12, Paternoster Row."
Excellent, with light, even toning and superficial staining in the margins.
$35.00