Steven L. Hoskin
Historical Autographs

Buying and selling American Historical Autographs, Documents, Letters and Manuscripts. Specializing in U.S. Presidents & First Ladies, along with Revolutionary War, Civil War, Black History, Business, and the Arts & Sciences. Quality consignments are accepted.
Upcoming Shows
Florida Antiquarian Book Fair
St. Petersburg, FL
April 26-28, 2019

Seattle Antiquarian Book Fair
Seattle, WA
October 12 & 13, 2019
---
---

ANDERSON, MARIAN (1897-1993)
African-American Contralto
One of the most celebrated singers of her time, Anderson was refused permission to perform at Constitution Hall by the Daughters of the American Revolution in 1939, due to racial prejudice. In response, First Lady Eleanor Roosevelt resigned her membership in the organization, and a concert was arranged for Easter Sunday, 1939, at the Lincoln Memorial. On January 7, 1955, Anderson became the first black person to perform at the Metropolitan Opera in New York City.
Document Signed, 6" x 9", "Marian Anderson," a four-page printed program for "her twelfth consecutive coast-to-coast tour of her native land," presented by the Civic Music Association; signed diagonally across the text of the title page.
The program has general soiling and wear, along with several folds and light creases, and there is a break in the paper in the mid-left margin.
$150.00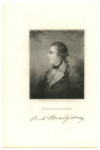 MONTGOMERY, RICHARD (1738-75) American Revolutionary War, Continental Army Major General; Killed-in-Action during the Battle of Quebec City - December 31, 1775
Original Engraving, 6 ¼" x 9 ½" overall, with a printed facsimile signature beneath a 3 ½" x 4 ½" image of Montgomery in military uniform, imprinted "Engraved by E. MacKenzie, from the Painting by C.W. Peale in the Philadelphia Museum."
Lightly and evenly toned, with a few superficial stains.
$25.00

LEE, ROBERT E. (1807-70) Confederate General & Commander of the Army of Northern Virginia
Original Steel Engraving, 6 ½" x 10" overall, with a printed facsimile letter closing and signature beneath an exquisite, pristine 3 ¾" x 5" image of Lee in Confederate uniform, imprinted "New York, D. Appleton & Co."
$60.00